Color War Chrono: Paint Paradox
A downloadable game for Windows
- - -
Color War Chrono: Paint Paradox
- - -

Controls:
Single Keyboard Dueling!
Jumping :: P1: Space // P2: rCtrl to jump.
Be sure to use double jump to get to high and tricky to paint spots!
Movement :: P1: WASD // P2: Arrows
SUMMON A TIME CLONE ECHO PAINTER
P1 : F
P2 : rShift
Controller support!
Move with the left analog stick.
Use A to jump, and left sholder to summon a time clone echo painter
In the final moments HEX year 0xFFFFFE...
...the turn of the mutlichroma-ennium.
Groups of renegade time painters have found a ways to exploit a predicted quantum computing error known as Y2K-0L0R to re-approach the turn of the multichroma-ennium with disentangled chromo-copies of their most powerful painters.
As a painter approaching what has been predicted to be a full fledged Color War...
It is your task to spread your color.
Showing exceptional skill, you have been chosen to be utilized in the Y2K-0L0R experiment:
Can you out color your strongest opponents?
Can you out color yourself?

---

// NOTE:

// 4 PLAYER BUILD
// FINISHED AFTER ALAKAJAM #6
//THIS VERSION REQUIRES A GAMEPAD FOR EACH PLAYER

// KNOWN BUGS FOR 48 HOUR RANKED RELEASE:
Unlimited number of "clones" or paint echoes for keyboard players pressing F or Right-Ctrl. For best game-play use controllers.
Left Shoulder is used for this action and is limited by your color's paint level as shown in the indicator.

Thank you so much for playing my game.

_____
| • | •|
| |
| __ |
V V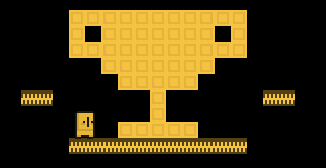 Winner of the AKJ#6 48-Hour Solo Jam
Download
Click download now to get access to the following files:
Color War Chrono - Paint Paradox.zip
3 MB
4 Player Color War Chrono - Paint Paradox
3 MB